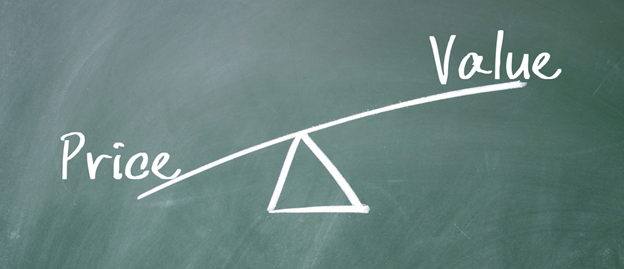 There's much debate these days about businesses adopting digital means of modernization. And while this ado accelerates, companies tend to oversee key elements that contribute to value creation for customers and business alike. It all trickles down to how well organizations consider business value through multiple lenses. Taking into account economic performance and engagement factors, both for customers and employees, is although less tangible but significant when it comes to measuring business visibility.  
Enterprise spending on IT products and services is forecasted to reach a staggering $4.5 million in 2022 with a steady 5.1% as compared to last year. As rewarding as it sounds, it takes more than an effective strategy to align processes, products, and to leverage maximum business value.  
What defines value for businesses?
To define value, it is the perceived benefits, usefulness, and importance of an entity. For businesses, it is the combined number of tangible results it generates for its stakeholders. Here the key element is developing a clear insight into what the customer is expecting without clearly asking in any contract. Like quality, value is also intangible but a chief differentiator for which every customer is looking.  
Simply put, value is all about how customers feel once they engage with you, and start using your products and services. As principle, the perceived value must be more than the baked value, i.e., what the customer is paying for the offering. This is primal for businesses to realize what competitive advantage they offer to their direct buyers, who come to the website or any point of contact. Everything else acts as the real cost for the customer. 
Engineering value with purpose
Value engineering (VE) is a systematic method to enhance and uplift product value and service offerings by examining how particular business elements associated with cost perform. The overall effectiveness is referred to the VE function or determiner that measures performance and reliability to meet customer needs at the lowest overall cost. All in all, value is the ratio of function to cost.  
It is easy to confuse value with quality when organizations are constantly striving to provide customers with the best possible service. Unlike other tangible elements like budget and time, this attribute is difficult to measure, since there is not a single proven method to track progress in this domain.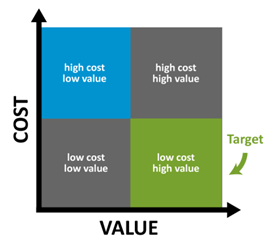 Source: Horst Construction 
What usually happens is most of the projects reach a successful completion in terms of revenue generation and functionality, but fail to realize real value for the actual end users. Keeping up with the digital upheaval, business value creation has become a greater challenge, requiring clear, concise and calculated risk to value planning. 
Six Strides to Leveraging Value 
Here is a simple process based on the Poka-Yoke technique to ace your business at creating greater value. This is to add clear process activities with the right team assignment and measurable input and output. Let's have a detailed view of the process below. 
Step 1: Think Value
To keep business processes and strategy aligned, one specific focus must be on value addition. Usually, customers will not ask for value as they do for quality; hence, it remains prime but rather implicit. In fact, customers are paying for the direct benefits, i.e., the value they get from a product or service your business offers.  
60% of companies report greater profits as compared to those which lack a customer-focused business plan. This brings home the fact that value thinking needs to be implemented at the most crucial touchpoints, channeling a value-rich customer experience. Organizations that keep an equilibrium between the customer's perceived value and the actual value they offer are able to generate lasting sales and a champion brand identity in the long run.  
Step 2: Plan Value
Chalking out key requirements to properly execute your value model is the next best step. And while businesses and customer experience teams prioritize core functions and value-added metrics, they tend to lose focus on an important element: planning. What exact value the customer will get at the end must be part of the regular agenda and part of product planning activities, including specific activities like brainstorming, creating user personas, and running A/B testing. Each activity should contribute to the service/product by transforming specific inputs into outputs.   
Step 3: Communicate Value
The 'value' must be a clear communication agenda during the project implementation phase. It acts as how managers and business leaders monitor the famous triple constraint of cost, scope, and time. As a matter of fact, value engineering needs to be distributed at all levels of the process comprising analysis, design, implementation, testing, deployment, and post-live support. In each phase there must be explicit checks to verify and validate if the team has a clear understanding of the plan of action to reduce cost and risk, and how to leverage and communicate that value for customers. 
Step 4: Add Value
At this part of the process, customers should realize value addition, which entirely depends on the outcome they receive. An outcome is a result for a stakeholder enabled by one or more outputs while an output, in business terms, should be referred to as tangible or intangible deliverables of an activity. Here one can think of value addition as the benefit that is derived from the transformation of raw inputs to final products. As you transform the products, the customer's willingness to pay for the goods directly increases. The greater the customer's willingness to pay, the greater the value addition. 
Step 5: Capture Value
While value creation refers to the total additional benefit created in transforming the input to output, capturing value determines your ability as a business to 'acquire' that value yourself, as a retained profit. Value capturing is as important as adding, planning or thinking value, ensuring a win-win for both sides.  
Step 6: Repeat Value
This is an ongoing process and could be seen as an umbrella activity during the whole engagement process with customers. Making sure your customers get the best value-added services each time will create a strong customer base, increase your brand loyalty and form a market reputation for you based on winning experiences.  
Concluding thoughts
One thing that comes out on top is to think and execute value engineering like a real step-by-step process and not merely ad-hoc. Keep in mind that simplifying the process and shifting focus on creating value rather than high-end products and services is the key differentiator for your business. In the end, it all comes down to what your customers want, and if they are actually getting value out of your business.